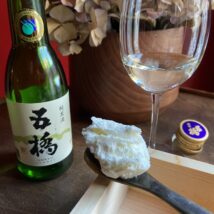 Walter says: For February we chose two Junmaishu which are quite acidity-driven, though with Sake that still tastes rather mild compared to white wine, a fact that's convinced many who were looking for something more elegant than beer to have with their meal.
You'll recall that we introduced you to the Gokyo brewery's Kimoto last month. As for that rather bold sake they work exclusively with regionally produced rice for the Junmaishu. Round acidity is balanced by a very fine umami note, which makes for a very "clear" finish – something that is much appreciated and highly rated amongst sake connoisseurs. And due to the soft water Gokyo uses the mouthfeel is delicate. A prototype of a Junmaishu (for which rice is polished less than for the Ginjos) with a very distinctive character. Personally it is especially this diversity of all the different Junmaishu that makes Sake exciting for me. Enjoy chilled, but also warm to a wide range of dishes.
Brauerei: Gokyo
Name: Junmai
Typ: Junmaishu
Alk.: 15,5 %
SMV: +2
RPR: 60%
Säure: 2.0
Aminosäure: 1.6
Reis: Nipponbare
Präfektur: Yamaguchi
Heinzelcheese says: This sake reminds me of young off-dry Riesling wines from Rheinhessen or the Pfalz. Its features still well-padded with a cute baby fat, and at the same time fresh, agile and cheerful! I tasted it first at room temperature, than chilled and preferred the former (I'm learning!) – as did the cheese. Which was just as acidity-merry, in the shape of very fresh goat cheese, so in fact drained, slightly pressed and salted goat quark. The acidity on both sides got along well, the round, rice-scented sweetness in the glass loved the fluffy texture and as far as umami was concerned they were on a par. A pairing with great potential, as in rolling the cheese into balls and coating them with dukkah, or some spice, or chopped nuts…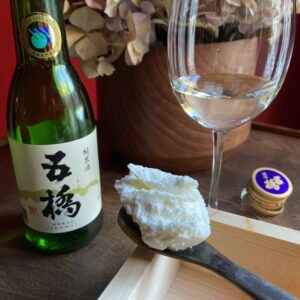 Walter says: Our second sake comes the northern province of Akita. Even in the Japanese context the Hiraizumi brewery looks back on a long history, being founded in 1487. Like the first one, at 1.9 this Junmaishu is acidity-driven (acidity is usually measured between 1.0 and 2.0). what makes it special is the Yamahai method used for brewing it. This means waiting for sufficient natural lactic acid bacteria to form to take care of any wild yeast and bacteria before adding the yeast to the rice. Normal practice today is adding lactic acid straightaway, simplifying and shortening the brewing process because the added yeast can directly set out to work. However the Yamahai method (just like Kimoto, presented here last month) allows for another aromatic dimension. It is for that reason that Yamahai and Kimoto both offer a very good introduction to sake forces experienced palates, especially if their background is with wine – and on top of that they are extremely cheese-friendly.
Brauerei: Harushika
Name: Yamahai Junmai
Typ: Junmaishu
Alk.: 15 %
SMV: +4
RPR: 60%
Säure: 1.9
Aminosäure: 1.5
Reis: Sake-Komachi
Präfektur: Akita
Heinzelcheese says: I couldn't agree more – my wine-friendly palate loves this Junmaishu, which is less fruit-driven than the Gokyo, but still round, with that wonderful, lingering aroma of freshly boiled rice in the mineraly, very clear finish – dangerously drinkable! And fantastic with over twelve months old (time for brewing, time for ripening) Piave, a traditional raw milk hard cheese from Belluno, in the Veneto's Dolomites. Flaky yet not dry in texture, with very fine, discreet mineral notes – those two make a very elegant couple, a cheese course worth an equally sophisticated fine menu as a frame.