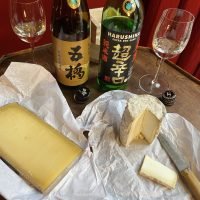 Walter says: After the super elegant finale of the old year we start the new one with two bold, strong sake to counter the grey, rather dark days of January. First one of my favourites, the Extra-Dry from Harushika. It stems from Nara, Japan's old capital (710-784), famous for its numerous ancient temples and wooden shrines – but also for the tame wild deer roaming the city and searching visitors' pockets for victuals.
Harushika, the brewery's name indeed means spring deer. It was amongst the first breweries to produce an extra-dry sake after the Second World War, quite a revolutionary thing to do because although dry sake had been very popular during the Meiji period (1868-1912), after the war the preference was for significantly more sweetness. With this alcohol-strong, very dry sake Harushika became a pioneer. The water they use is not very soft which makes it easier to produce very dry sake that pairs well wie oysters, seafood, white fish and grilled chicken.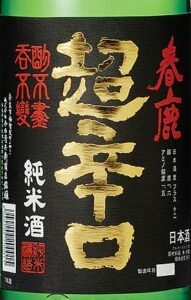 Brewery: Harushika
Name: Extra-Dry (Chou Karakuchi)
Type: Junmaishu
Alc.: 15 %
SMV: +12
RPR: 60%
Acidity: 1.4
Amino acid: 1.3
Rice: Gohykumangoku
Prefecture: Nara
Heinzelcheese says: To start with: the more I learn about sake the more I realise how little I know… which means it's getting more and more exciting! This time, for the first time, I tasted and paired the sake at room temperature – as a wine person, with white stuff in the glass, that's quite a hurdle to take. But the gain in flavour for these bold sake was substantial, it suited the low temperatures outside, and the cheeses were happy too. Even then it was a challenge to get a grip on the nose; warm, lactic, sweetish?!? On the palate the first impression made me think of currants, those dark, small raisins (simultaneously sour and sweet), then it seemed surprisingly round and… yes, robust and bold, partly due to the alcohol, and eventually there was an indirect sweetness due to that – what stayed with me, very pleasantly, was a gianduja note.
Originally I had prepared some Reblochon to go with this, but the two signalled in the negative, in an almost aggressive, hard, unrelenting way. Out came the Clacbitou (yes, I do love my old friend Serendipity), a lactic goat cheese from Burgundy, four weeks old and therefore slightly broken down and nicely gooey under the rind. Wow, what a Hollywood fairy tale encounter! The cheese was shaped by its sweet milky aroma, strong fresh acidity and salty monerality, dense in texture, though melting on the palate without sticking to it. A perfect offset for the sake, like a beautiful pedestal that brings out the best of a sculpture. The two radiated a calm serenity that couldn't feel more appropriate right now, be it as a cheese course or for an apero – so that the spring deer may turn up soon.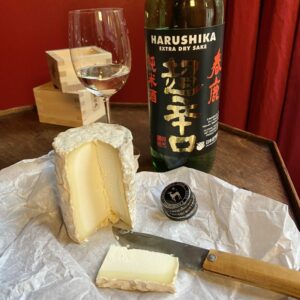 Walter says: This month's second sake, a junmai from Gyoko, introduces us to a very special brewing method: Kimoto! With this traditional, very labour-intensive technology the making of the starter takes up to 25 days, instead of the currently common 12 days. Using very special methods ambient lactic acid bacteria are integrated, and this makes for a longer fermentation and a somewhat drier sake, in this case rating 2.4. To put this into context: all sakes presented here so far were below 2.0! Only a tiny percentage of all sake is still made that way, depending on the source between one and three percent. Additionally this Kimoto from Gyoko has been fermented in wooden vats, and that turns it into a real rarity. In fact it shows a bit of colour and a "barrique" note. Kimoto sake go well with a large range of foods and dishes and are therefore quite easy to pair. For wine lovers they are interesting due to their somewhat higher acidity. In Japan they are often served warm, at around 40°C.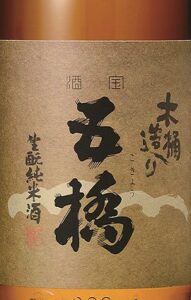 Brauerei: Gokyo
Name: Kiokezukuri Kimoto
Typ: Junmaishu
Alk.: 15 %
SMV: +3.5
RPR: 70%
Säure: 2.4
Aminosäure: 1.9
Reis: Isehikari, Yamadanishiki
Präfektur : Yamaguchi
Heinzelcheese says: I'm not sure if I would have come up with anything "barrique", and my sense of acidity in sake continues to be a different one – but this sake certainly is immensely drinkable, no doubt about that!! I first picked up something slightly earthy, reminding me of turnips, followed by the vague idea of mashed banana and very ripe banana skin. On the palate this continued in the form of a huge amount of flavour and good, softish length. The alcohol acts as much in the background as does the acidity.
In this case I had prepared the right cheese, 18 months old Comté from Jura. With its quiet, slightly sweet fruit notes and the friable yet smooth texture (even more noticeable if you don't chew but squash a small piece with the tongue against the upper palate) its structure is very similar to that of the Gyoko Kimoto. Together they are the perfect companions for long dark winter nights.