This is a new monthly series. You can subscribe to it here, and here is how it all began… enjoy!
Walter says: Our project starts with  Tsukasa Botan, a brewery founded in 1603 on Shikoku. Shikoku, Japan's fourth largest main island, is not exactly known for sake, and there are not many breweries there, but the many fishermen are known for their high per capita consumption. This comes pretty close to our own motto: A sake is good if we want to empty the bottle! Tsukasa Botan simply inspires us. These sakes can appear robust and energetic, but they are never clumsy or dull, simply always "honest".
We start with Senchu Hassaku, a good example of regional sake. It is named after the 8-point programme of a famous samurai who fought for his opinion that government action ought to be based on public opinion (and thus indirectly was a pioneer for democracy). Theoretically, this is a very dry sake (sake-meter value: +8), but it does not necessarily taste that way at first. And exactly here is an important point: in Japan, sake is always accompanied by something salty, even if only a few grains of salt, and that makes it  really interesting. On Shikoku, fish is very popular, for example bonito sashimi, served with freshly grated ginger or garlic.
Brewery: Tsukasa Botan
Name: Senchu Hassaku
Type: Tokubetsu Junmai
Alc.: 15.9%
SMV: 8
RPR: 60%
Acidity: 1.4
Amino acid: 1.1
Rice: Yamada Nishiki, Akebono
Prefecture: Kochi
Heinzelcheese says: It took me a long time to understand sake. To call it rice wine is completely misleading, and thinking of it as beer doesn't cut it either. No, it's – Sake! For which the grape wine concept of "dry" and "sweet" just does not apply, mostly because the acidity in sake is so much lower, in general only about a fifth. Instead there is plenty of umami… as in mature cheese.
A sake as straightforward and accessible as the Senchu Hassaku from Tsukasa Botan offers a great introduction to the pairing with cheese, because it is very unpretentious and combines well even with an aged crottin goat cheese, refreshing the palate. Nevertheless, in the end what I liked best with it was Parmigiano Reggiano, aged 24 months from Cravero. The flaky, crumbly structure (it tastes much better broken than cut!) of this classic made from raw cow's milk from Emiglia-Romagna in central Italy kind of soaked up the Sake, its own umami levels (high due to the long ripening, when protein break down into amino acids) met the sake's at eye level, and together these two were like a complete meal.
Walter says: Our second sake from Tsukasabotan is a summer sake, Natsu Jungin – after all, this project would not exist without summer sake! Summer? Yes, sake is a "seasonal" drink, similar to beer, not vintage-focused like wine. Summer sake is always a bit more spritzy, lighter and a bit more acidity-driven. This sake is a good example of how pasteurisation can not only be used for conservation but also to balance the taste. Sake is usually pasteurised twice, whereas seasonal sake is pasteurised only once or not at all. Natsu Jungin is pasteurised just one time, retaining its refreshing summer flavour, but has a much finer aroma than unpasteurised sakes. And also (not a professional comment maybe) – isn't this label simply beautiful in combination with the bright blue bottle? In Japan, blue is often used in summer because it is considered very "cooling", and huge fireworks are a part of traditional summer fun.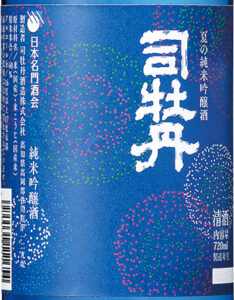 Brewery: Tsukasa Botan
Name: Natsu Jungin
Type: Ginjo
Alc.: 16,9%
SMV: +5
RPR: 60%
Acidity: 1.3
Amino acid: 0.9
Rice: Akebono, Omachi, Yamada Nishiki
Prefecture: Kochi
Heinzelcheese says: Dangerous stuff… this drank so well that the bottle emptied at an alarming speed. I was smelling and tasting loads of fresh, fragrant melon, and therefore first reached out for a youngish alpine hard cheese. In fact, the cheese's acidity went quite well with the sake. But then I came across an even more exciting pairing, with the Netherlands' Booij family's Boerenkaas ("farmer's cheese"). While belonging to the vast Gouda category, it plays in its very own league, due to top quality raw cow's milk and hands-on attention to details during production. Contrary to the typical sweet/sour/salty simplicity of very young wheels, after a good four months this one comes across as truly harmonious, the creamy opulence carried along by smooth acidity, its texture melting instead of elastic, and it's exactly that impression of very fine cultured cream that the Natsu Jungin latched on to. Doing so it tasted even more refreshing and spritzy, adding a small spoonful of fruit to the cheese that will make you forget any chutney, fig mustard or mostarda. Together these two were pure elegance, as joyful as fireworks in a summer sky and yet completely grounded.
Should you be interested in these or other sake, please contact Walter!
This is a new monthly series. You can subscribe to it here, and here is how it all began… enjoy!